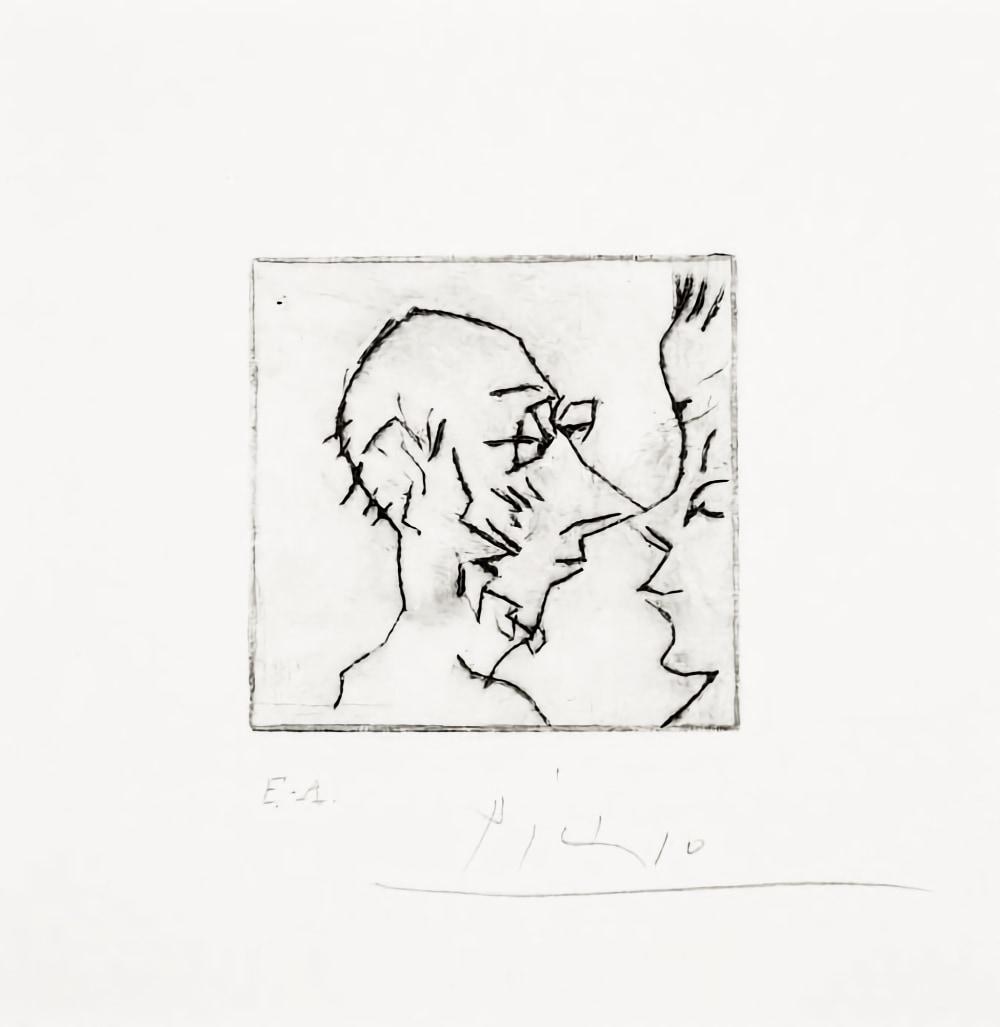 Pablo Picasso - Caricature
£0.00
Original drypoint Etching, Cannes 1958, made with celluloid, On Auvergne paper, with full margins, signed in pencil.
Sizes: Plate size: 59 x 59 mms ; Paper size: 170 x 167 mms (6 ⅝" x 6 ½" inches)
References: Bloch, Georges. 1968-1979.Pablo Picasso, catalogue de l'oeuvre gravé et lithographié, 4 vol. Berne: Kornfeld and Klipstein. Bloch 864
Geiser, Bernhard and Brigitte Baer. 1986-1996. Picasso: Peintre-Graveur, Catalogue raisonné de l'oeuvre gravé et des monotypes, 7 vols. Berne: Kornfeld. (Baer 1023A)
Goeppert, Sebastian, Herma Goeppert-Frank & Patrick Cramer. 1983. (GC). Pablo Picasso: Catalogue Raisonné des livre Illustres. Geneva: Patrick Cramer. (93)
Public Collections: MOMA, New York
Note: This was made to illustrate the book "Pierres" by Pierre Andre Benoit published in 1958.
The portrait probably depicts Jaume Sabartés who was a childhood friend of Picasso. and they were both regulars at Els Quatre Gats, where the youngest artistic circle of Barcelona would gather."[4]
Sabartés and Picasso remained close until the former's death. In 1899, Picasso painted his first portrait of Sabartés, which is now in the Pushkin Museum , Moscow. At Picasso's request, Sabartés moved back to Europe from Uruguay, settling at rue La Boétie in Paris in November 1935, and became Picasso's full-time secretary, organising his papers, books and poems, and was responsible for arranging his exhibitions. A dour and rather serious man Picasso lied on him but treated him badly making many mocking caricatures of him of which this is an example.
Printed by: P A Benoit
Edition: One of just 6 artists proofs printed on Auvergne paper. There were also 90 other proofs signed and numbered on the same paper.
Condition: Excellent